My collection of Chauncey Jerome clocks started with an ogee made for the American Clock Co. that my wife gave to me in the early 1990s. The label featured an image of a clock factory, with the words "Chauncey Jerome Clock Maker" over the entrance. I soon discovered that Chauncey Jerome was one of the best known of 19th century clockmakers. By focusing on Chauncey Jerome clocks, I was able to further my interest in clocks as well as the history of clock making.
Most of my clocks have some connection to Chauncey Jerome, although the connection is sometimes obscure (see, for example, the George Mitchell clock). The three Waterbury clocks also point to connections to Chauncey Jerome that may not be obvious.
I'm a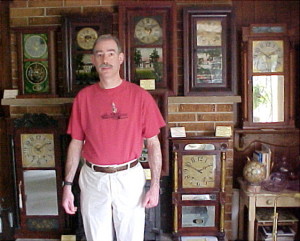 member of the National Association of Watch and Clock Collectors and local Chapters 135 (Mt Rainier) and 58 (Great Plains) and Cog Counters Chapter 194. Having moved to Omaha from the Seattle area, I no longer go to Chapter 135 meetings.
I'm still adding pictures of my Chauncey Jerome clocks, so stop by again. Apologies for some of the amateurish photography. When in a hurry, I'm easily defeated by reflections. If you're interested in higher resolution images or photos taken from different perspectives, please email me.
Feel free to contact me with questions about your Chauncey Jerome clocks. I'm always happy to help people learn more about their clocks. NOTE: if your spam filters are set too rigidly, my replies, which will come from my personal email address and not from my website, may get shunted into a junk mail or spam folder.  I generally try to reply within 48 hours with at least an acknowledgement that I've received your email.  Please check your spam or junk mail folder if you don't see a response from me.
LATEST UPDATES
3 July 2017: I've added a couple of clocks that I've actually had for a while. I was planning to do some restoration work on both and just haven't found the time to do it. One is a 30-hr ogee that dates to 1844-1845 when Jerome's movement-making operations were in Bristol and his case-making (and final assembly) operations in New Haven. It has an uncommon type 1.32 movement and a Fenn tablet. The other clock is an 8-day, double-door ogee that probably dates to 1851-1856. The type 1.143 8-day movement in this clock has also been added to the 8-day brass movement page. The July/August NAWCC Watch & Clock Bulletin has an article I wrote on an Empire-style clock purportedly from the Lincoln-Herndon law office. A similar clock in my collection can be found here. A link to the article (available only to NAWCC members) is on my Research Interests page.
29 May 2017: After quite a lull in purchases, I've recently acquired another very unusual clock with raised flat moulding. Unlike the one I posted in October that was made in Bristol, this one was made in New Haven shortly after a fire destroyed Jerome's Bristol factories. This is the only one I have ever seen with a New Haven label. It has what I refer to as a "fire" movement, because I believe the front plate (at a minimum) was saved from the fire and married to a New Haven back plate. It's possible other parts of the movement were also saved from the fire, but I don't know of any features that would permit stating that definitely.
4 March 2017: Made a minor revision on the New Haven label page, updating the date for labels printed by F.L. Goddard.  Listings in New Haven city directories place him at 131 Union St. from 1870-1872.  He died in December of 1872.
9 October 2016: Posted my most recent purchase, a Jerome 30-hr, weight-driven clock with flat moulded case. Relatively few examples of these exist, and they date to c. 1841.
4 September 2016: Answered the question of whether the tablet showing the Jerome factory is original to the New Haven Clock Co. ogee. Based on a recent article in the NAWCC Bulletin, it almost certainly isn't original. Added a recent acquisition:  The 30-hr Union model made by Chauncey Jerome around 1852.
20 August 2016: The pursuit of this clock took over two years, but it was worth it. The only thing remarkable about this New Haven Clock Co. ogee is the tablet, which depicts the New Haven factory of Chauncey Jerome from the 1840s. The question is why is such a tablet in a clock likely dating to the late 1860s or early 1870s? Follow this link if you're willing to stand a bit of speculation.
30 May 2016: Another exciting purchase. This time a fusee Jerome mini-Empire-style clock with two-tone veneer (mahogany and birds-eye maple). Often referred to as a fake fusee, due to the absence of a graduated fusee cone. This version, however, has slightly tapered wood spools and winding drums. To the best of my knowledge, the tapered winding drums have not been previously reported in the literature.
8 May 2016:  My latest purchase is a Jerome & Co. shelf clock with features patented by S.B. Jerome. The patent (Design Patent 4,278) for "plastic composition" inserts found in the door was issued on Aug. 9, 1870.
9 April 2016:  I realized very belatedly that I'd never posted images of the unclassified 30-hr, spring-driven movement in one of my Jerome steeples on the movement identification page. I've fixed that. The movement is unusual in a number of regards: strike hammer is activated by a single pin on the #2 wheel; 50-tooth escape wheel; and brass springs. This movement and the type 1.313 are very similar; the only difference being the latter has an additional pillar below the intermediate wheel.
21 February 2016:  This post features one of the most exciting finds I've come across in years. When I first ran across this clock, I wasn't sure what to make of it. The pieces of the puzzle didn't seem to fit, or at least I didn't know what to make of them. This Jerome patent case clock was made by Wm. L. Gilbert & Co. during the brief period Jerome worked for Gilbert after Jerome's bankruptcy.
15 February 2016:  Added a page for my most recent acquisition, a Chauncey Jerome steeple with a 30-hr, spring-driven movement made by the New Haven Clock Co. The New Haven maker's stamp is not common. The tablet shows a scene called "The Highland Chase", engraved by T. B. Welch and published in Graham's Magazine in 1850. I also updated some pages with better photos.
2 February 2016:  I tweaked the date ranges for some of the labels found in New Haven Clock Co. (aka "Jerome & Co.") clocks.  The internet provided some information that allows putting approximate date ranges for Benham & Son (1867-1870), Scott & Williams (1867-1871), and Goddard (1871-1873). I continue to find more examples of labels for the New Haven Clock Co. and Jerome & Co. The total is now up to 40, and I expect it to keep climbing. I also added a note to the 30-hr weight driven and 30-hr spring-driven brass clocks pages explaining that my labeling convention (for example, "Ogee #8″) does not refer to a manufacturer's model number; it just makes it easier for me to keep them straight. That labeling convention has confused a number of people (understandably). Another thing that was not clear about my label pages is that they are devoted to 30-hr, weight-driven clocks. I've clarified that on the three label pages. I have not attempted to catalog labels in spring-driven clocks, primarily because there are very few clues that will enable dating the labels. Also, a few corrections or minor additions were made to the Maker's Stamps, Jerome Ogee #7, Research Interests, and Resources & Links pages.
24 December 2015:  Season's greetings!  This update includes two recent acquisitions. The first clock, an Anglo-American, is a bit of a deviation from me, in that there is no direct connection to Chauncey Jerome. The 8-day movement, however, is a variety that was used both by Jerome and the New Haven Clock Co. The second clock, at first blush, is a fairly typical Jerome steeple from the 1850s. A deeper look reveals an unusual 8-day time & strike movement that was likely made for Jerome by A.S. Platt & Co.
30 August 2015:  Updated the Jerome electric banjo page with an image showing the clock with reproduced chimney and finial.  Added a recent acquisition:  A 30-hr Chauncey Jerome octagon gallery with marine lever movement.
15 February 2015:  A query from a visitor to my website led me to add a page showing common maker's stamps used by Jerome on 30-hr, weight-driven movements.
3 January 2015:  Added a page detailing the ownership record of the Blinn family clock.
23 December 2014:  Added a type 5.113 movement, from the Jeromes & Co. clock posted yesterday, to the 30-hr wooden works movement identification page.
22 December 2014:  Several additions today.  I had been planning to wait until restoration was completed on this Jeromes & Co. wood works clock, but, like many other projects, it is slow in getting done.  The latest ogee in my collection is a beautiful clock that has quite a story to tell.  My wife and I are still doing research on the ownership history of the clock, and I hope to have the results posted soon.  In the meantime, the clock, with an exquisite tablet and unusual dial, can be found here.  The last addition is a bit out of my normal collecting focus, but it does have a connection, of sorts, to Chauncey Jerome.  It's an electric banjo clock made c. 1931 by Chauncey Jerome, Inc. of New York.
29 August 2014:  Added a bit more information to the Smith & Brothers 8-day ogee clock description regarding the unclassified Jerome movement.
29 August 2014:  Now for something completely different.  My understanding had been that Chauncey Jerome only held one patent (Design patent 883), and it was for a clock case.  I recently ran across another patent issued to Chauncey Jerome.  See the Jerome patents page for a surprise.
10 August 2014:  No new clocks.  However, please see my note above in the intro about spam filters.  I believe some of my replies are not getting through to the intended recipients.
28 June 2014:  Posted most recent acquisitions:  a Chauncey Jerome gilt gallery timepiece and a Chauncey Jerome octagon clock with double fusee movement.
1 June 2014:  Added a brief summary of patents held by members of the Jerome family to the research interests page (see "Jerome patents"), with a link to a page with examples.
20 April 2014:  Added close-up images of peacocks found in the border of the label in Ogee #1.
20 April 2014:  See the research interests page under "Ephemera" for a note on marketing tactics used by the Jerome Manufacturing Company.
30 March 2014:  See my most recent acquisition, a Chauncey Jerome octagon with a Barnes/Hubbell 30-hr balance wheel movement.  Also added some more information about the Jerome & Co. octagon and updated info on the two Jerome patent case clocks (Waterbury Clock Co. and New Haven Clock Co.).
23 March 2014:  On the 30-hr brass movement ID page, I added images for an unusual type 1.311 movement with an atypical boss over the horizontal member of the T on the front plate.
22 March 2014:  On the 30-hr brass movement ID page, I added a little more information that supports my belief that the type 1.314 brass movement was made by Hiram Camp for the Jerome Manufacturing Co.  Camp's company was incorporated as the New Haven Clock Co. in January 1853.  I also added a back view of the type 1.612 movement.
22 March 2014:  See the research interests page for the start of the mystery of "C. Dickinson Haddam," which was written on the reverse side of the tablet of a circa 1856 Chauncey Jerome ogee.
8 March 2014:  Added more information on the Crosby & Vosburgh ogee tablet showing the Smithsonian Institute.
8 March 2014:  On the research interests page, added a link to my article on religious symbolism found on labels in Chauncey Jerome clocks.  Unfortunately, it's only available online to NAWCC members.