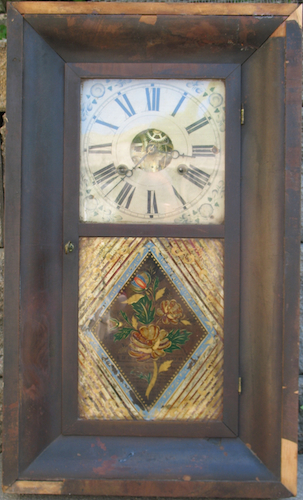 This is a bit of a wreck of a Jerome. I bought it quite a few years ago and was going to hold off posting it until after I'd restored the case. Restoration has progressed much slower than I hoped (translation: it's been buried in the basement for six years), and I decided to stop waiting. Dating this clock is relatively easy, because it has a Bristol-stamped movement in a New Haven-labeled case. Although to some this might be an indication of a marriage, it's a perfectly appropriate combination in this instance. The clock dates to 1844-45 when Jerome was still making movements in Bristol (before his factories were destroyed in a fire on April 23, 1845) and casing them in New Haven.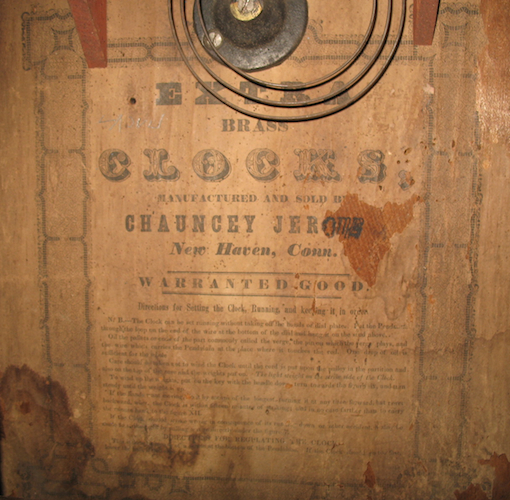 This is one of the earliest labels found in Jerome clocks assembled in New Haven. Although there is no printer's line, there are similarities in the label to those printed by Fernando Gutierrez of 75 Fulton St., NYC.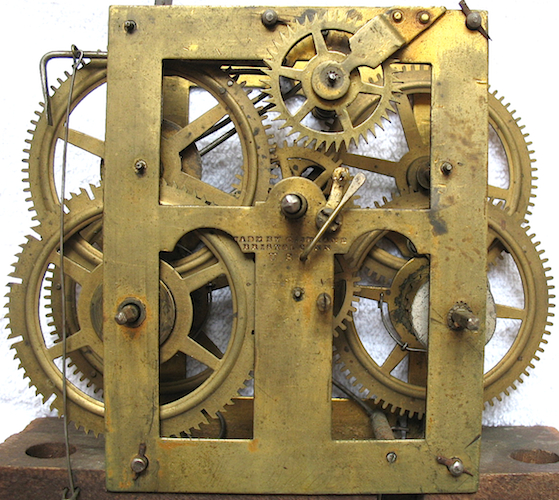 Front view of the type 1.32, 30-hr movement. The primary feature distinguishing a type 1.32 from a contemporaneous type 1.311 is that the number 2 time wheel is behind the number 1 wheel. All other Jerome movements have the number 2 in front of the 1. Although this is speculation on my part, it's possible that the type 1.32 represents incomplete movements that were saved from the fire in Bristol and that were made complete by using non-standard number 2 time wheels and matching escape wheels.  The movement has the standard Bristol maker's stamp: "MADE BY C JEROME/BRISTOL, CONN/USA".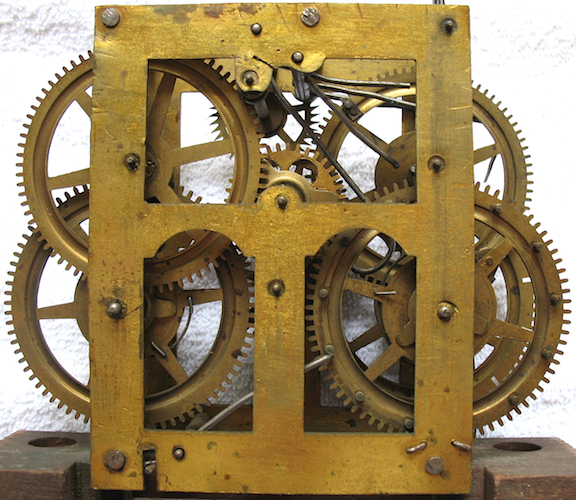 Rear view of the type 1.32 movement.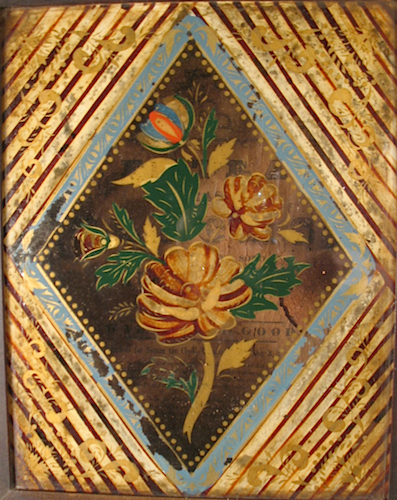 William Fenn tablet with an unusual red & white striped pattern added behind the gold stenciled border.