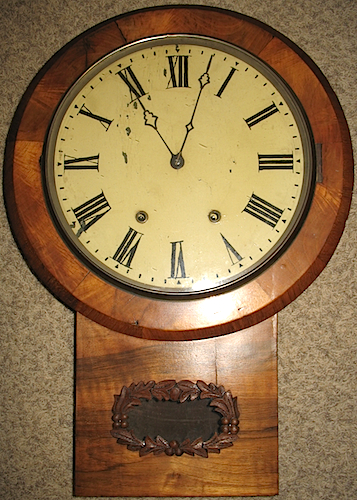 This clock represents a bit of a deviation from my normal collecting interests, although it does have some connection to Chauncey Jerome (even if it's a bit of a stretch).  This is a style of clock known as "Anglo-American", due to its American movement and English-made case.  Anglo-Americans, as a class, are visually stunning, with beautiful veneers and ornamentation.  This one, however, occupies the plainer end of the spectrum, having no "bells and whistles."  At one time, it had the typical "ears" attached to the side of the case.  Those are long gone.  Normally, Anglo-Americans have horizontal turned elements (like scrolls) that extend below the clock.  Mine terminates in a flat bottom, which I believe is original, because it's veneered.  Without the distractions of the normal flourishes, its simplicity allows you to instead appreciate the graining in the veneer.  The clock has no label, nor did it ever have one, so the maker remains unknown.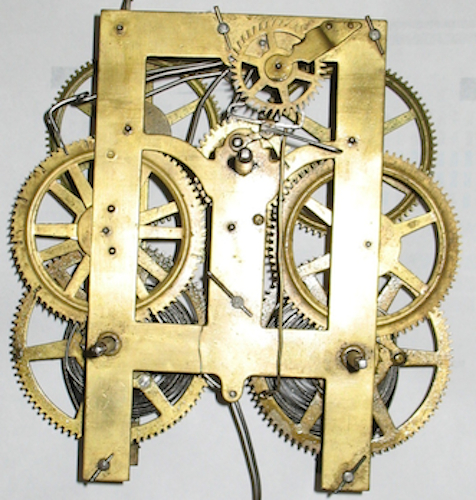 This 8-day movement with no maker's stamp is typical of late Jerome or early New Haven Clock Co. movements.  The primary feature that distinguishes a Jerome or an early New Haven movement from a later New Haven movement is the shape of the escape wheel bridge, which is necked in earlier versions and tapered in later ones.  The tapered escape wheel bridge was introduced sometime in the 1870s.  Just to be clear, by Jerome I'm referring to Chauncey Jerome (or the Jerome Manufacturing Co.) and not "Jerome & Co."  Many Anglo-Americans have labels identifying "Jerome & Co." as the maker, but these post-date the bankruptcy of the Jerome Manufacturing Co. in 1856.  I don't know when Anglo-Americans were first introduced, but I'm inclined to think this movement is a post-1856 New Haven rather than a Jerome.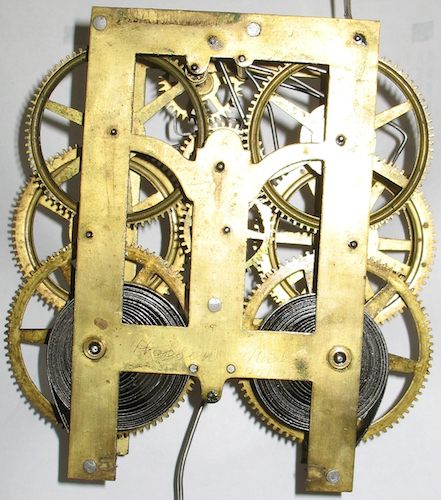 Rear view of 8-day time & strike movement.