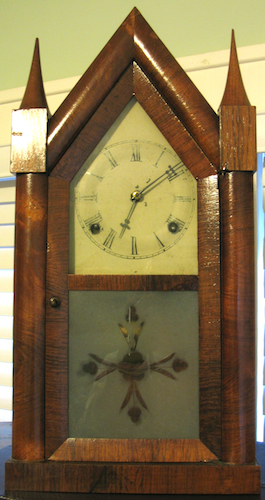 This Jerome steeple probably dates to the early to mid-1850s.  Almost everything about it is original, the exception being the hour hand, which is an appropriate replacement.  The 8-day movement is one I have never seen before, and I believe it was made by A.S Platt & Co.  Platt was a known supplier of movements to Jerome.  In fact, Jerome was likely Platt's principal customer, as Platt's bankruptcy followed shortly after Jerome's.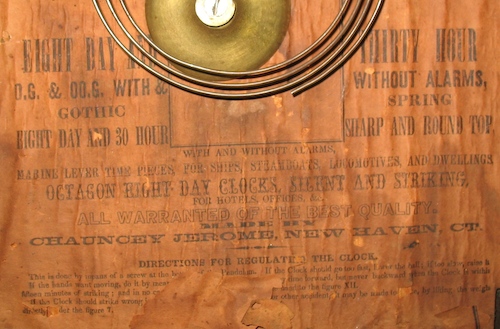 Typical Jerome label of the period that is often found in small shelf clocks like steeples and beehives.  The label serves a utilitarian purpose (offering directions on how to regulate the clock) but also advertises many of the products made by the company.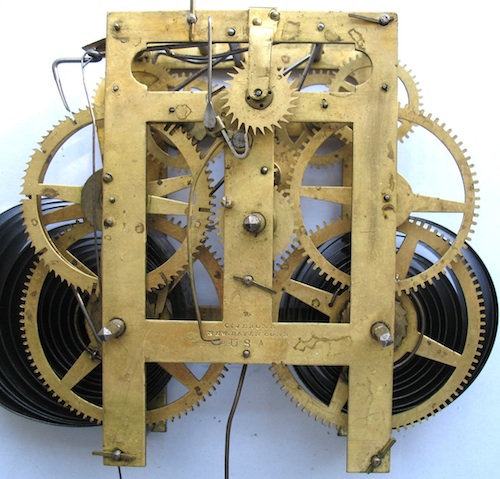 8-day time & strike movement with rolling pinions (front view).  Although I have never seen a Platt 8-day movement in person or in print, a number of features of this movement lead me to believe it was made by A.S. Platt & Co.:  1) escape wheel bridge shape, 2) maker's stamp, 3) wheel spoke pattern, 4) escape wheel, and 5) verge pin rivet.
1) The escape wheel bridge shape is attributed, in A. Lee Smith's comprehensive survey of escape wheel bridges (Bull. NAWCC No. 323, Dec. 1999), to a Chauncey Jerome 8-day T&S movement.  It is given the bridge type designation of A1.4.b.  Although the bridge on my movement is slightly more than 1/16" shorter than the one he describes, the other dimensions (head=0.219" and width=0.344") are identical.  As you can see, the bridge is oriented vertically.  This bridge is very similar in overall shape (tapered, with no neck) to ones used by A.S. Platt & Co. on 30-hr movements, although there are some perhaps significant differences.  The Platt bridges (type D1.4.a) are oriented at 2 o'clock and are narrower in width (0.328") and broader in the head (0.25").  Although the lengths of the 30-hr and 8-day bridges are different, that is attributable to their different orientations.  Like the ones on 30-hr movements, this one has two diagonally oriented rivets that fasten the bridge to the front plate.
2) The maker's stamp has been previously reported on in the Bulletin, as well as on the NAWCC message board (see below for close-up).  The stamp is different from the standard stamp that appears on many Jerome clocks from New Haven, which give the maker's name as "CHAUNCEY JEROME" as opposed to simply "C. JEROME" on this steeple movement.  Most notably, though, the "C. JEROME" stamp is also associated with a stamp that notes the maker as A.S. Platt & Co for C. Jerome.  I believe the "C. JEROME" stamp was used exclusively by A.S. Platt for movements he supplied to Jerome.
3) All Platt movements I've seen have wheels with four spokes, as does the movement in my steeple.
4) Many Platt movements have a solid escape wheel like the one in mine.
5) All Platt movements I've seen have a broad, flat-topped rivet securing the verge pin arm to the front plate, as does the movement in my steeple.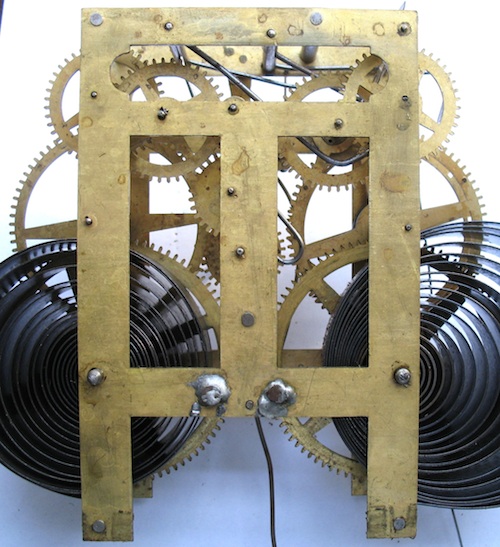 Rear view of movement.  The two stops that are crudely soldered in, presumably to control expansion of the springs, are not original.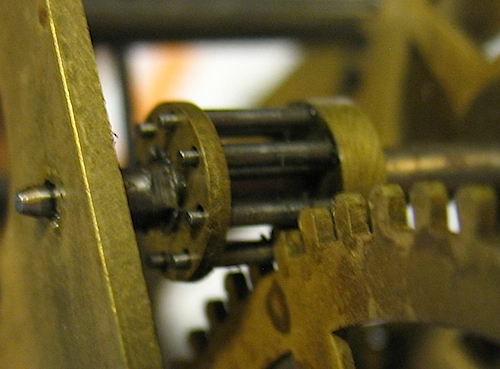 Close-up view of rolling pinions.  Joseph Ives received the first patent for rolling pinions in 1833.  He believed that rolling, as opposed to fixed, pinions reduced friction.

Detail showing the "C. JEROME" maker's stamp.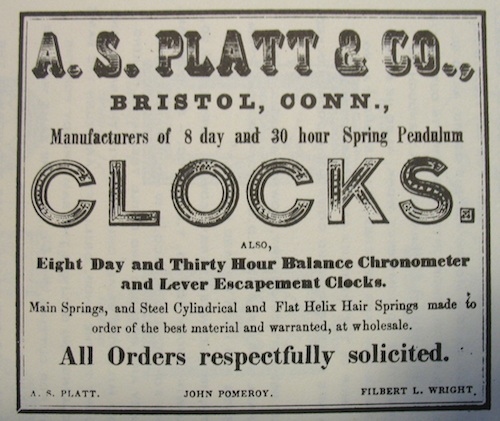 Advertisement for A.S. Platt & Co. from the 1851 Connecticut Business Directory that mentions that they are "Manufacturers of 8 day and 30 hour Spring Pendulum" clocks (reproduced from Ken Roberts, The Contributions of Joseph Ives to Connecticut Clock Technology 1810-1862).  This confirms that Platt made 8-day movements, in addition to the far more common 30-hr ones.