The inscription "C. Dickinson Haddam" on the reverse side of the tablet intrigued me.  I thought I'd see what I could dig up by googling "C. Dickinson Haddam".  As a name, I got zip.  But I got numerous hits on "Dickinson, Haddam" and "Dickinson Haddam," where Haddam is a town in Connecticut.  That made me wonder if the signature was for a C. Dickinson, living in the town of Haddam in 1864.

I turned to census records, and in the 1870 census, I found a number of Charles Dickinsons residing in CT.  One of those happened to live in Haddam, in the home of his father, Noah.  His occupation was given as "Sea Captain."  Charles was born on September 7, 1844 and died on January 13, 1933.  When the inscription was made, he would have been 20 years old.  Also living in the Noah Dickinson household was Cynthia O. Dickinson, who is listed as a boarder.  Charles and Cynthia were distant cousins, and they married on June 19, 1868.  The 1880 census indicates that Charles and Cynthia O. were still married, and by that point Charles was working as a clerk in a grocery store.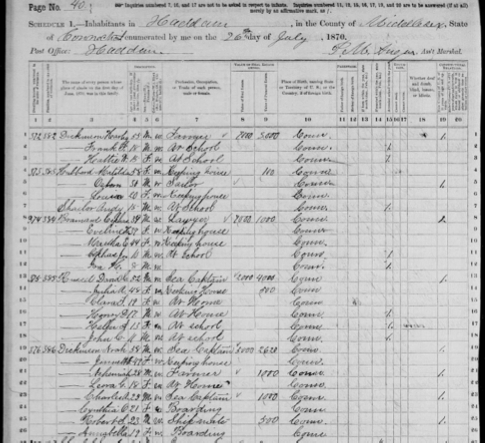 According to the Haddam Historical Society, "Shipbuilding was done on a small scale" during the 19th century.  Haddam is located on the Connecticut River, approximately 30 miles from Long Island Sound.  Census records confirm a seagoing heritage in Haddam.  Head of the Dickinson household was Noah, also a sea captain.  A son, Robert, is listed in the census as a shipmate.  In addition to the three nautical Dickinsons, two other Haddam residents (out of 40 records on the same census page) were sailors.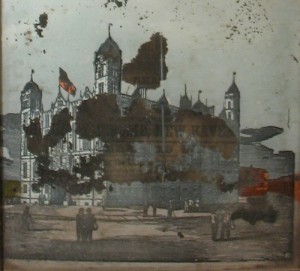 If I had to speculate, I'd say that the circumstantial evidence is enough to tie the clock to Captain Charles A. Dickinson.  How Charles acquired the clock and the significance of the Nov. 22, 1864 date are still a mystery.  Perhaps the clock was a present from his sea captain father when Charles became captain or first mate of a ship.  Or maybe it's as simple as Charles himself bought it on that date.  If so, and if he bought it new, then it had been sitting in a shop for around eight years waiting to be bought.  The subject of the tablet, the Sailors' Home in Liverpool, which opened for borders in 1852, may even have been something that Noah or Charles had seen on a trip to England.  Regardless, the theme of the tablet would have had significance for a nautical family.